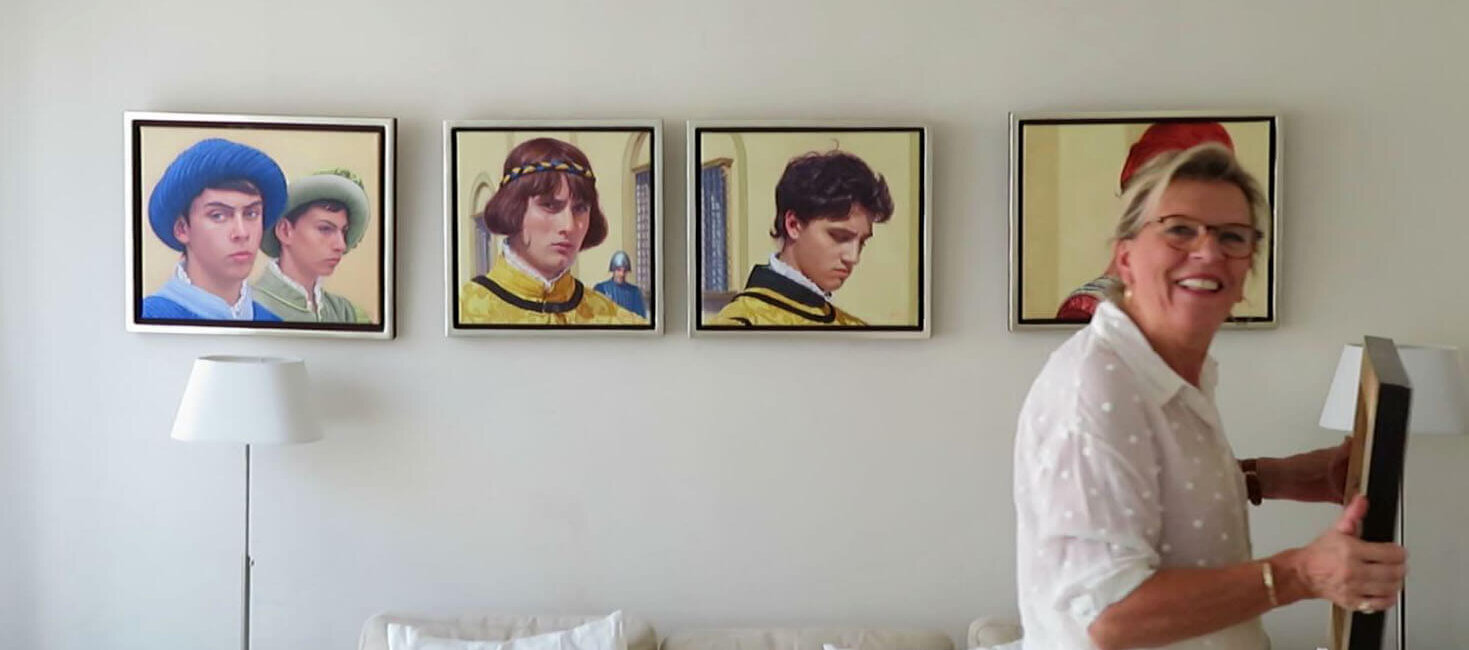 Artist Yvonne Melchers showcases her mastery of light and form in her sumptuously detailed paintings of subjects both intimate and universal. Whether painting a scene from her beloved North Sea Shore, the portrait of a strong but vulnerable young man dressed for the historical Siena Palio round, or the rumpled sheets and textures of a Venice hotel room, Melchers infuses each with a glow that speaks of the real and the ethereal. Precise technical skills join a rich historical palette and striking compositions in paintings that leave an indelible impression. (2019, Alessandro Tomassetti, artist)

Yvonne Melchers (born in Haarlem, The Netherlands) studied at the Rietveld Art Academy in Amsterdam, but had to leave after only one year on account of too many other obligations. She always continued to draw and paint next to her work in the Academic Hospital in Amsterdam. In 2009 she quit her job and from then on paints full-time. Apart from the one year at the Art Academy and some short courses she is self-taught. Her work is realistic-figurative, with a strong preference for oil paint. Generally using the paint straight from the tube and using mostly bristle brushes she has developed an impasto technique where the brush strokes are clearly visible. For all of her work in oil she uses a very limited palette, the "colours of Monet", which are five colours besides the whites.
Themes
Through the years her main themes have been the Dutch coasts with their cool light and the warm Italian life in all it's aspects. The Rooms with a View are predominantly situated in Italy. Since 2013 she has been working on a series Siena Palio Portraits, which are portraits of modern Italian men and boys who – wearing wigs and historical costumes – take part in the Historical Procession that precedes the Siena Palio (the famous horse race) that takes place twice a year (more information about the Siena Palio can be found on www.ilpalio.org). She has also made a small series of still lifes and every now and then she likes to paint a commissioned portrait or other subject. Since 2001 she has been working in The Netherlands and in Italy (Siena) alternately, and although this caused her some restlesness, she found the contrast in daily life, light and colour inspiring and challenging. From April 2012 she remains in The Netherlands.
Fabrizio Tondi
Fabrizio Tondi, surgeon, author, presently Mayor of the town Abbadia San Salvatore in Southern Tuscany ánd collector of her paintings, writes about her work:
"The characters in the paintings of Yvonne Melchers, through their tri-dimensional veracity, the intense yet soft light that envelops their profiles, and the artist's extreme accuracy to detail, seem to physically and emotionally emerge from the canvas. In her paintings of objects, nature and landscapes we are captivated by the atmosphere and perfumes which seem to emanate from the canvas and make us dream. Yvonne Melchers always embraces the soul of the location of her paintings, whether this is her homeland Holland or her adoptive country Italy."
Lorena Kloosterboer

Lorena Kloosterboer, visual artist and author, in the theme issue Glorious Color of PoetsArtists Magazine (june 2018) writes about her Room with a View/Summer in Stresa:
"Yvonne Melchers is a Dutch artist, who paints a wide range of subject matter, including portraits, beachscapes, interiors, and still lifes, using Claude Monet's limited palette. Although her style is realist, Melchers embellishes her signature paintings by applying impressionist-like brushstrokes that create a sense of dynamic strength.
Melchers' quixotic painting, entitled Summer in Stresa, draws me because of its romantic atmosphere, superb attention to detail, and vibrant multichromatic palette. This piece elegantly captures a moment of blissful intimacy by linking an opulent private space with the world beyond—both equally enticing and inviting in their potential promises"
Museum Møhlmann
In 2013 she has been made a member of the Group of Contemporary Dutch Masters of realistic and figurative art that exhibit in the Museum Møhlmann in Appingedam (Northern Netherlands) on a regular basis.
Galleries
Besides in the Museum Møhlmann her work is/was exhibited at Gallery Lauswolt in Olterterp, Gallery Bonnard in Nuenen, Gallery Staphorsius in Westzaan, Gallery Montulet in The Hague and Gouda, Gallery Pictura in Aijen Gallery Terbeek in Beetsterzwaag, all in the Netherlands, and at Galería ArteLibre in Zaragoza/Spain, Abend Gallery in Denver/Colorado and the Museum MEAM in Barcelona/Spain (from July 12th).
BP Portrait Award and other competitions
Her painting Room 32/Venetian Summer was selected for participation in ZomerExpo 2012 (Summer Exhibition 2012) in the Gemeentemuseum (Municipal Museum) in The Hague.
In 2015 and in 2018 a portrait of her series Siena Palio Portraits was selected for the second round of judging for the BP Portrait Award of the National Portrait Gallery in London.
In October 2016 two portraits of her series Siena Palio Portraits were selected and exhibited at the Weekend of the Portrait in Amsterdam, which was organized by the Dutch Portrait Award Foundation.
In 2017 a portrait of her series Siena Palio Portraits was selected for the second round of judging of the Dutch Portrait Award.

Preselected for Figurativas 2017 and Figurativas 2019, one of the most prestigious international competitions of contemporary realist/figurative art, organized by the European Museum of Contemporary Art (MEAM) in Barcelona.
A portrait from her series Siena Palio Portraits was Finalist in the 14th International Salon Competition of the Art Renewal Center 2019/2020, based in the US, which may be called the most prestigious international competition of contemporary realist/figurative art. The portrait will be published in the eponymous catalogue.
The Dutch Portrait Award 2019

In June 2019 her portrait "Prof.Dr.M.J. Heineman and Amsterdam" was nominated for The Dutch Portrait Award 2019. This portrait, together with 49 other nominations, was exhibited at the castle Slot Zeist from September 1st through November 17th, 2019.
Publications
In February 2017 a portrait of her series Siena Palio Portraits was selected and published in the issue The Male Muse of the American art magazine PoetsArtists.
In October 2017 the baby portrait Sander@3days was selected and published in the issue The Family of the American art magazine Poets Artists
In May 2018 her portrait Edoardo, part of the triptych An Italian Family was selected and published in the issue Eros' Gaze of the American Art Magazine PoetsArtists
In June 2018 her painting Room with a View/Summer in Stresa was selected and published in the issue Glorious Color of the American Art Magazine PoetsArtists, to which curator Lorena Kloosterboer wrote the above review.
In September 2018 her painting Room with a View/Autumn in Venice was selected and published in the issue Anything but the Figure of the American Art Magazine PoetsArtists. Curator Jan Nelson wrote about this painting:
"What a lovely painting! The brushstrokes and colors are reminiscent of Impressionist works like those of Renoir in the 1880s."
In February 2019 a portrait from her series Siena Palio Portraits was selected and published in the issue Adorn Me of the American Art Magazine PoetsArtists. Curator of this special collector's issue was Carol Hodes, art collector from Kaapstad/South Africa.
In the issue of November/December 2019 of FINE ART CONNOISSEUR a portrait from her Siena Palio Portraits was selected for the article "Dressing the Part" by Matthias Anderson (pages 58-63)
For more publications in art books, catalogues, art diaries, etc. please check the chapter Publications on this website
Galería ArteLibre

She was invited by this gallery in Zaragoza / Spain to participate in the anniversary exhibition "20 Años en 20 x 20" on the occasion of the 20th anniversary of ArteLibre in 2019. This traveling exhibition, to which 160 of the best realists wordwide are invited, consists of works of 20 x 20 cm and is held in Zaragoza, and in the MEAM Museum in Barcelona.
Facebook
On Facebook she has been made member of the artist groups Poets/Artists (US), Master Painters and Sculptors of the World (FR), The Representational Art Group (US) and Today's Grandmasters of Fine Art (GB). In the Italian Museum of Contemporary Art (IT) a room dedicated to her work – Sala Yvonne Melchers – has been created.
The paintings of Yvonne Melchers have not only been sold in The Netherlands, but can also be found in collections in Italy, Spain, Germany, Belgium, France, The United States and Australia.
December 2019